Another View from Arizona, Annals of Sinema
Josh Marshall
TPM Reader XX gives us another view on how Sen. Kyrsten Sinema is doing back in Arizona.
I am a longtime TPM subscriber who has known Krysten Sinema since she was running for Phoenix City Council as a Green party candidate. I think your analyses, and that of fellow reader GT, of her behavior are largely on target, though the revelation this morning that the big mail and digital push on her behalf is coming directly from Big Pharma suggests that this, again, is short-term positioning rather than some long-term plan.
Read More
| Muckraker
Two Republican operatives were charged this month with a scheme to funnel money from a Russian businessman into former President Trump's 2016 campaign, a document unsealed on Monday reveals.
Read More
| News
As Democratic moderates stake out ultimatums, party leadership tries to keep the agenda in one piece and the White House attempts to polish the messy optics of legislative sausage-making, staffers continue to plug away at crafting the actual reconciliation package behind the scenes.
Read More
| Muckraker
On the dusty tarmac of an airport in Northern Afghanistan, six planes have been waiting for days.
Read More
| News
The CEO of MyPillow was treated like a visiting dignitary in Alabama Friday, meeting with the state's governor and secretary of state during the latest stop on his futile months-long effort to demonstrate hijinks in the 2020 election.
Read More
| Prime
We wrote yesterday about the trend of 2020 election truthers — Big Liars, Trumplicans, pick your title — exposing sensitive information about the inner workings of election software, in the name of Truth and Transparency.
Read More
| Muckraker
The initial reports on the contents of the new book by Washington Post reporters Bob Woodward and Robert Costa came trickling in this afternoon.
Read More
| News
In May, a federal judge dismissed a Trumpy lawsuit over the 2020 election results in Antrim County, Michigan, where a clerk's error had briefly resulted in a miscount of the vote. "Expert" witnesses in the suit had seized on the discrepancy, which they claimed was the result of Dominion voting machine technology "purposefully designed" to tamper with vote totals.
Read More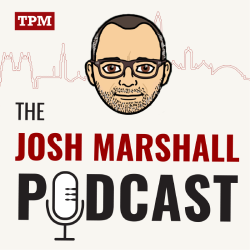 Ep. 191: Big Tent Wrangling
Josh and Kate discuss the debt ceiling, impending government shutdown and fate of the two-track infrastructure plan as Democrats try to get their house in o
MEMBER EXCLUSIVES
PRIMEWIRE