Our COVID Future
Josh Marshall
Two stories emerged out of Israel this week which give us a view into the remaining months of 2021 in the United States. There's nothing special or significant to the stories emerging in Israel. It is simply the most aggressively vaccinated country, using the most effective class (mRNA) of vaccines. Recently Israel had its first week with no COVID fatalities at all since the beginning of the epidemic. In most respects the pandemic is or was truly over in the country. No new fatalities, only a tiny positivity rate in tests, basically all mitigation mandates lifted over the last two weeks. But then starting several days ago there was a new outbreak tied to a group of schools in the north of the country.
Now to be clear, this is an 'outbreak' at a much, much smaller magnitude than anything we had seen during the pandemic. It also doesn't seem to be evading the immunity provided by the Pfizer vaccine any more than expected. But it's still highly significant and the country is on the verge of bringing back some of the mandates like indoor masking.
Read More
| Features
For those ready to believe that President Trump really won re-election, there's one particularly fantastical conspiracy theory to hang your hat on.
Read More
| News
Nearly three months after the head of Michigan's Republican Party unveiled an audacious plan that would allow GOP legislators to circumvent the state's Democratic governor's veto to pass restrictive voting laws, the contours of the scheme remain murky.
Read More
| News
Before Texas filed a lawsuit that asked the Supreme Court to block President Biden's win in four battleground states, a draft of the petition was circulated to the Louisiana attorney general's office.
Read More
| Cafe
As a lifelong novel consumer who enjoys throwing myself into other worlds for hours on end, it probably won't come as a surprise that I don't read too many short stories.
Read More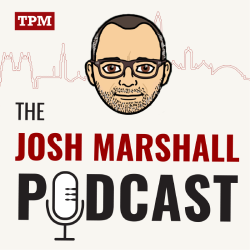 Ep. 178: The Fight Against Despondency
Josh and Kate discuss the Republican filibuster of even starting debate on Democrats' major voting rights bill, and game out the path forward for democracy ...