Out of Patience with the CDC? Grow the F Up
Josh Marshall
I will get to some points about the CDC's updated masking policy in a moment. But first a few points about the CDC's decision-making generally. I thought the earlier decision to end the masking guidance for the vaccinated was a mistake. I think the CDC was trying to balance the evolving science with immense public pressure to offer what amounts to a reward for vaccination, to declare the pandemic over or show the benefits of vaccination.
But after yesterday's updated policy or reversal I kept seeing comments on Twitter, headlines in OpEds and comments from people on TV saying, "That's it!" "That's the final nail in the coffin of the CDC's credibility!" Or 'the experts' or Fauci or whoever else. "First it was no masks! Now masks are back! Which is it??!?!!?"
Really people need to get the f*#$ over themselves.
Read More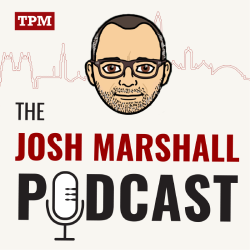 Ep. 182: Pelosi's Veto
While discussing the fate of the bipartisan infrastructure package, Josh and Kate react in real time to the news that Speaker Nancy Pelosi is rejecting some...
MEMBER EXCLUSIVES
PRIMEWIRE